~ Basic Pistol Shooting Course ~
An introduction to features, components, operations,
and safety rules for revolvers and semi-automatic handguns.
Who takes this course?
Students are men and women (at least 21 years old) from all walks of life who want to know the essential knowledge, safe practices, and basic skills for handgun use.

Some students have little or no experience with firearms of any sort, but they want to know about handguns for their own benefit. Others have prior experience with firearms, but have never dealt with handguns.

Still others have prior experience with handguns, but need the basic training for safe and effective use of pistols.

Moms and dads want to know how to protect their children from accidents involving handguns.

Everyone who enrolls in this course is treated as an individual learner. Their instruction in handgun knowledge and skill is tailored to their personal background and interests. Ample opportunity is provided for students to ask questions, discuss issues, and inspect and handle a wide variety of handguns.

For More Information

Please call 1-860-455-1229 or email us at info@ForesightForGoodGuys.com.


Featured Topics
Gun Safety Rules for Storage & Use
Laws Pertaining to Handgun Ownership & Use
History of the Handgun
Demonstration & Handling of the Revolver
Demonstration & Handling of the Semi-Auto
Varieties of Handgun Calibers & Ammunition
Live Fire of the Revolver and Semi-Auto
Cleaning and Storage of the Pistol
Handbook for Handguns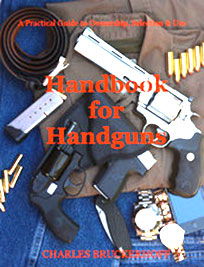 Select thumbnail above for an ebook copy
.
Select icon below for a paperback copy
(either full color or b/w)



This book is also available as a
Kindle version.from Amazon.

Students who enroll in the Foresight Basic Pistol Shooting Course receive a signed copy of Handbook for Handguns.


Successful completion of this course enables graduates to pursue the "Connecticut Permit to Carry Pistols and Revolvers" and to meet handgun purchase and/or carry permits in other states or jurisdictions where this NRA-certified course is a basic requirement. Since this course emphasizes firearms safety, the practices and procedures will be of benefit to you for life, no matter what may be your personal interests in handguns.

Visit the CT Department of Public Safety website for Special Licensing and Firearms.




Visit the National Rifle Association's website.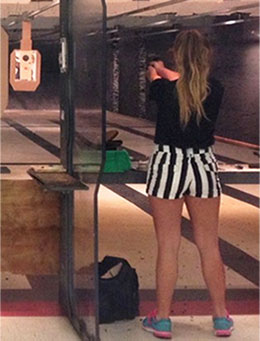 This course is active, engaging, and informative, thus the student should ask questions and also expect to handle real pistols and revolvers throughout the day. Opportunity will be available for gaining familiarity with both revolver and semi-automatic pistols.
The student will complete live fire at a paper target on the pistol range with at least one small caliber pistol. The instructor will directly supervise every student's live fire experience.
Also, the student completes a multiple-choice, true/false type exam to assess their knowledge from the Basic Pistol Course.
An official Basic Pistol Certificate is provided to each graduate of the course.



| | |
| --- | --- |
| Course Offering: | Monthly |
| Starting Time: | 9:00 a.m. |
| Ending Time: | This course typically requires up to 10 hours |
| Fee: | $125 per person, pay by cash or check at start of class |
| What to bring: | Pen or pencil, notebook, and baseball cap. |
| Do NOT bring: | Any kind of firearm or ammunition |
| Food and Drinks: | In addition to hot and cold beverages, a continental breakfast and lunch are served. |
Safety First....Safety First....Safety First
Three Cardinal Rules for Safe Gun Handling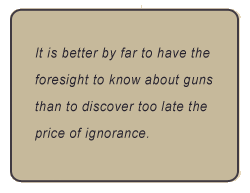 Keep your finger off the trigger until ready to use!
Keep the muzzle pointed in a safe direction!
Keep the gun unloaded until ready to use!
Believe this: A firearm is always loaded!

Safe Storage of Firearms in the Home
Store firearms unloaded.
Store firearms in a locked safe or with a trigger lock.
Store ammunition in a locked container separate from guns.
Know this: Unlawful storage of a loaded firearm may result in imprisonment or fine.

Rules for Children Concerning All Firearms
Teach children to follow these life-saving rules whenever they discover a firearm:
Stop what you are doing immediately: Do not touch the gun.
Leave the area immediately.
Tell a responsible adult immediately.
Remember this: Children know where everything is stored and they will access it when you least expect.


Legislative Research Reports on Firearms



We are listed on the Outdoor Ninjas website, a resource dedicated to providing its readers with helpful advices and tips about hunting, fishing, self-defense, survivalist skills and other outdoor activities.